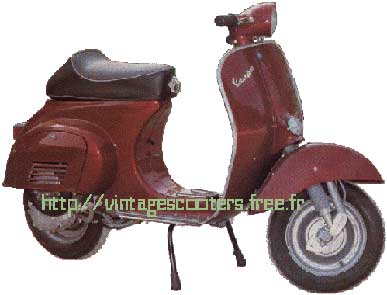 Vespa 50 V5A - 1963
This model with a 3 speed manual transmission was introduced during first months of 1963. The V5A model was very popular because it may have been drived without a driving license. In France, you don't need a driving license for any motocycles under 50cc. This model was fitted with pedals in France to respect a reglementation for the moped class.
The 50cc models will be improved with lot of modifications during next years of productions and for importations. Even if this model was fitted with a 3 speeds manual transmission and with 2.75x8 solid rims, there was a version of this model fitted with a 4 speed trans and 3.00x10 inchs rims, it was named "50 Special"
Another version was fitted with an electrical starter (Vespa 50 Elestart). It was produced with a square headlight, the ignition contact on top of the handlebar and no kickstarter. The look was also slightly modified around the horn on the legshield. This model was generated by a 6V system helped with 2 battery (but mostly distributed in Britain and Italy).
A sportive version with the 50cc motor was also produced, the Super Sprint.