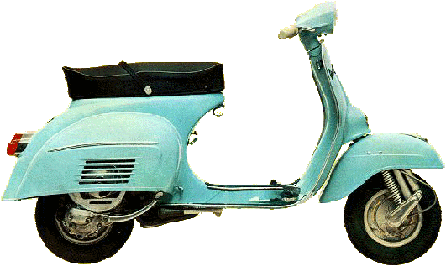 Vespa 150 Super - 1965 / 125 Super "MotoVespa" (spanish licence)
| | | | | |
| --- | --- | --- | --- | --- |
| | | Vespa 150 Super | | Vespa 125 Super |
| Year(s) of production | | 1965 / 79 | | 1965 / 69 |
| VIN | | VBC1T | | VNC1T |
| Number | | 1001 / 554808 | | 01001 / 025146 |
| Production | | 553808 | | 24146 |
In the "Super" type, there is two versions : the 125 and the 150. Esthetically they are similar.
This Vespa with the 150 Sprint were available with the "Automatic Fuelmix". The 150 Super is equal to the GL (not the french model), but it is fitted with 8" tyres and a different headlight.
Some 125 Super (photo 2) were also produce during the 68, but under the spanish licence "MotoVespa". The cowls are one piece with the frame (like the Primavera), but it has a glove-box in the legshield and a spare wheel fitted around the taillight.