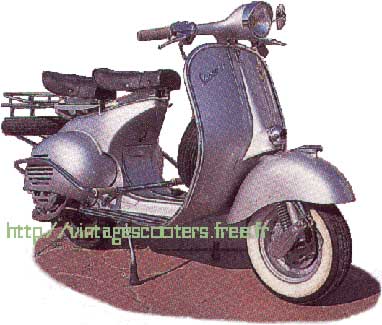 150 A.C.M.A. - 1956
This model is an equivalent of the GS model, but made in France. It was built by ACMA's factory plants in Fourchambault. All the luxe of this vespa was offered by better lighting system, an odemeter included in handlebars and night illuminated. Also 3 tires with white inserts, a confortable passenger saddle, a tool box with secure lock, a chromed legshield trim, a column lock and finally, a rear view mirror.
With its 9 inchs diameter rims and white tires, The ACMA model was very different from other scooters. GL model was built only between 1956 and 58. Only 14,083 units were built during these years. The GL was only offered in light metallic grey color.
This GL "Grand Luxe" may be confused with 150 GL 1965 who it was avalable in Great-Britain. But all britain models were fitted with a square head light and side panels like ones on 125 N or Sportique.