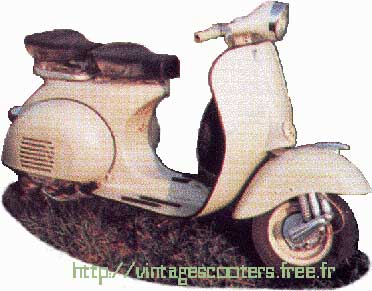 - 125 N - 1960
This model is also knows like "Sportique" in Britain.
The Vespa N was really new of we compare it to what was done before: Frame and engine are totally different.
It was the first vespa with an alloy handlebars and hidden control cables inside it.
The carb door placed under the saddle was remove and the carb is now directly connected to the cylinder.
Almost everything is new with this conception, from the kick starter to the gear selector, it's different...
All these improvements will change for ever the look of vespas. fastener for the saddle, shock absorber mounting on the motor and new style handlebar. Allo these changes will be use on next models through the PX
"N" model or "Sportique" was fitted with a 150cc motor with a 4 speed manual trans. With an oil/fuel mixture of 2%, that will help to prevent carbon deposit on the cylinder head and piston top.
During 1962, in Britain, a model named "Sportique Supreme" will be sold. It was fitted with chromed front fender and side panels, a long seat, a legshield trim, a culumn lock and a decorative chromed horn.