Scooters in movies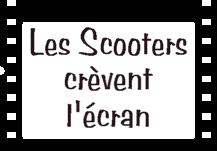 Movies' list, in which you can see vespa, lambretta... ; of course, you can send me more... Keep in memory the movies listed below aren't all very good ! (Thanks Elodie, Darren Swift, Didier, Axel, Derrick Jabczynski, )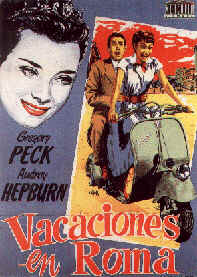 Roman Holidays (US - 1953), by William Wyller. This movie is very popular but isn't very good. More, the Vespa makes the poster but in the movie you only see it closely for some minutes.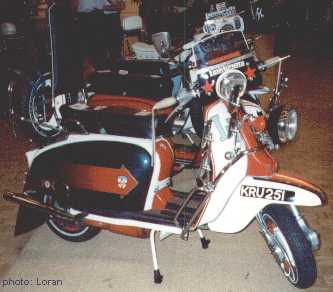 Quadrophenia (1979 - UK), by Franc Roddam. Pleinty of Vespas and Lambrettas, full of accessories and chrome!
Voyage à Rome (1992 - France) (nothing to do with Roman Holidays), by Michel Lengliney, with Gérard Jugnot. This film take place in Roma, but we can only see one vespa, a blue PX. And this movie is awful !
Journal Intime (1994 - Italy), by Nanni Moretti, one of the three parts is about a circuit in Roma on a blue GTR !
Family Life (1971 - UK), by Ken Loach, one of the actor rides a black & white Lambretta 125.
Il Postino (1995 - Franco-italian), by Michael Radford. At night, there an old vespa, italian model, from the 50's (with the headlight on fender), Note this film takes place in 1953.
Roseanna's grave (1997 - USA),by Paul Weiland. During the film, Jean Reno is riding a light blue PX with a flyscreen.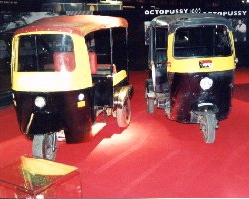 Octopussy (1983 - UK), by John Glen. Many Vespa and Vespacar aka "tuk-tuk", and a race between two vespacars in which James Bond is sitting.
Ronde de Nuit (1983 - France), by Jean-Claude Missiaen. In a block of flats' yard, there's an old grey Vespa parked. And at the end, you can see two people riding a white Vespa in the background.
Entre Ciel et Terre (1994 - US), by Oliver Stone. In the streets of Vietnam, you can see many vespa, a yellow GT (trapezoidal headlight) and many more.
Empire Records" (1995 - USA), by Allan Moyle.
The charecter Debra (Robin Tunney) is on a Vespa briefly, early in the film.

Vanille Fraise (1989 - France), by Gérard Oury. Aproximately at the end, you can see a white vespa 50. Maybe there's more, because it takes place in Italia.
Les deux papas et la maman (1996 - France), by Smaïn et J-M Longval. An actress is riding a white Vespa 50 Automatica.
Priez pour nous (1994 - France), by Jean-Pierre Vergne. It takes place in the 60's, and in the last 45 minutes, you can see a grey vespa sitting next to a wall. Maybe there's more, you have to tell me!
La Belle Américaine (1961 - France), by Robert Dhéry. In the first 30 minutes, you can see a Vespa ACMA (Vespa's french licence) parked next to a bus-stop, near a factory.
L.627 (1992 - France), by Bertrand tavernier. A black PX with rear rack and a top case is riding in the "commissariat", at 25 minutes of the begining.
La Haine (1995 - France), by Mathieu Kassovitz. You can see a blue PX with a flyscreen, and a 50 special.
Coup de Jeune (1992 - France), by Xavier Gélin. I'm not sure there's Vespa but they thanks "Vespa Diffusion" at the end of the film !
Night on Earth (1991 - USA), by Jim Jarmusch, one of the movie's parts takes place in Roma with Roberto Benigni sitting in a taxi, at this moment, a couple makes love on a vespa.
Romper Stomper (1992 - Australia), by Geoffrey Wright. Some Koreans are trying to escape Skinheads (Boneheads) on a vespa (PX?).
American Graffiti (1973 - USA), by George Lucas. One of the actor arrive on a Vespa.
Absolute Beginners (1986 - UK), by Julien Temple with Lambrettas series II, a vespa GS, and a golden vespa.
Les Tricheurs (1958 - France), by Marcel Carné, Jacques Charrier takes Pascale Petit away on a bicolor Vespa 125.
Le Pion (1978 - France), by Christian Gion. In front of a school, in the background, you can see the back of a Vespa, but you have to keep eyes open to see it.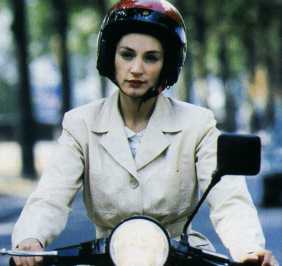 Chacal (1973 - Franco-english), by Fred Zinnemann. We can see a vespa passing in a street.
La Première fois (1976 - France) by Claude Berri. The film takes place in 1952, but there's a 60's vespa (a french model "type N", like the Sportique for the English).
Austin Powers (1997 - USA), a vespa can be seen at the begining.
J'ai horreur de l'amour (1998 - France), by Laurence Ferreira Barbosa. A woman doctor use her vespa PX in Paris to take care of her clients.
American Pie (1999 - USA) by Paul Weitz. Almost forgot the quircky american comedy where the charachter "Finch" rides a army green colored vespa, looks to be about a 60's 125cc.

Fripouillard et Compagnie (France), with Louis de Funès.
En Cas de Malheur (1958 - France), by Claude Autant-Lara, with Jean Gabin and Brigitte Bardot.
Les 400 Coups (1958 - France), by François Truffaut.
We can two times a french Lambretta LD with a flyscreen.
La Dolce Vita (1960 - Italy), by Federico Fellini, with Marcello Mastroianni.
---
[ My Vespa's Collection / Scooters Spotting / Meeting Reports / 50' & 60's Pics / Vespa's model from 1946 to 78 / Accessories / Foreign's scooters / Links / Events Calendar / Restoration (in french) / Small Ads (in french) / What's new ? ]